Site Info

My photos

Here you may find some of my personal, friends and my family pictures etc...

My programs

Some projects I developed alone and some part of development team and some personal freeware and my articles.

My skills

My Software knowledge and my skills and years of experience

Guest book

Please sign guest book add your views about this site

Contact me

My contact details(for support please see support pages.)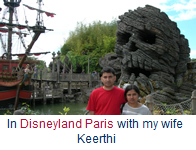 I'm Kiran Kumar Reddy Kaukuntla, friends call me with my first name Kiran which means ray of light in my mother tongue Telugu, I born in Chollair, a small village near southern Indian city of Hyderabad, grew up in Chollair & Hyderabad city with my two sisters and a brother. My father Mr.Shiva Reddy, is an agriculturist. My mother Susheela is a housewife.

I am a software developer, currently working as Senior Developer at Bank of America (London). Prior to this, I worked as Senior Developer for The Walt Disney Company Ltd in London, Broadcast Systems Developer for Fox Kids Europe Ltd and various other IT companies in UK and India.



Masters degree in computer science with over thirteen years of experience in the area of design, development of procedural, object oriented, service oriented, web and GUI based applications for various lines of business. I have developed applications in functional areas of Media and Broadcasting, Manufacturing management systems, Diagnostic and Medical applications.
more....



Some of my Projects include Online Broadcasting Reporting System, Broadcast Interfacing System, Financial Accounting Package, Diagnostic Application, Pharmaceutical Industry Management, Gas Agency Services System and Hospital Information Management system.
more....
Before I say some thing about Mr Kiran, I would like to mention an incident which happened while I was working on a Business Intelligence Project with AT&T (EMEA) We had a problem with one our Financial reporting systems. 12 software engineers were allotted to investigate and to see the light at the end of the tunnel. Having spent about 2 months on the problem, no one was able to find out either the cause of the problem or the solution.
Incidentally at the same time Mr Kiran was also working on a BI system with Fox Kids and one evening, I had an opportunity to discuss the issue with him. To my amazement, he took only few minutes to sink in the problem and suggested a solution spontaneously. That's what he is !!!
-R M Badigela (Sr System Analyst FGG Ltd)
More...